© Jean-François Lepage
(click thumbnails to embiggen)
whisper of yellow globes
gleaming on lamp-posts that sway
like bootleg licker drinkers in the fog
and let your breath be moist against me
like bright beads on yellow globes
telephone the power-house
that the main wires are insulate
(her words play softly up and down
dewy corridors of billboards)
then with your tongue remove the tape
and press your lips to mine
till they are incandescent
(Jean Toomer, "Her Lips Are Copper Wire")
____________________________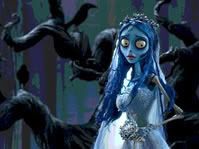 The trailer for Tim Burton's new stop-motion feature The Corpse Bride has been released! Visit the official site to view it.
In other droolworthy movie news: here, at last, is a peek at the upcoming Brothers Quay film The Piano Teacher of Earthquakes—scroll to the bottom of the page for a selection of high-quality production stills. (Thank you, murdermystery.)
Also, take a look at these photos, featuring Monica Bellucci looking sumptuous in her role as Queen Mirror, from the filming of Terry Gilliam's The Brothers Grimm (to be released in November).
Oh children, we have ever so much eye candy to look forward to this year...
Leave a reply
You must be logged in to post a comment.