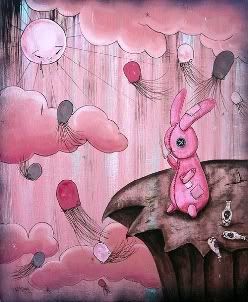 left to right: "Bunny Experiences Morbid Introspection", "Bunny's Airship", & "Bunny Watches The Invasion From The Window"
© Valery Milovic
(click thumbnails for bigger)
(yaaaaaay for squid-things!)
____________________________
Making Fiends is back once again with a heartwarming Valentine's Day episode! Watch it with your best-loved squid human for that extra-special glowy feeling.
____________________________
The Comics Interpreter needs your support! This zine is currently threatening to go under, but for a mere $12 you can purchase the latest three issues, including interviews with James Jean, Paul Pope, Hans Rickheit, and Kozyndan. Nailbunny says: GOOD DEAL.
Meanwhile, Kenichi Hoshine, talented Meathaus contributor and James Jean's collaborator on the gorgeous webcomic A Polite Winter, has recently launched his personal site at kenichihoshine.com.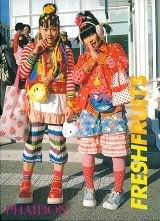 And Shoichi Aoki of Fruits fame is back with another installment of epilepsy-inducing Japanese street fashion in the upcoming Fresh Fruits, a new volume of photos selected from the pages of
FRUiTS magazine. Happy spazzing!
Leave a reply
You must be logged in to post a comment.