© Suzanne - click to enlarge
INTERNA
I feel like redesigning my website, turn the blog into the main index site, and add all the other website sections to a navigation bar at either the side or the top of the blog.
I was thinking of something clean and simple like The Nonist or Addictive Hobby - but I'm not quite sure yet how to do this and whether I should install WordPress.
Please leave a comment or email me if you have other spiffy redesign ideas and/or could (and want to) help me with the c0d3z.
Knowing me, it will probably take 5 years or more to create only a blog banner I'm entirely happy with. So do take your time.
Cheers!
_____________________________
PRO LITTERIS ET OCULIS
• Recently updated art sites:
Colin Johnson | David Uzzardi | Dayvid LeMmon | Derek Nobbs (Yup, again...) | Ewa Brzozowska | Gabriel Jones | Gabriel Suchowolski | Hope Wallace | Jacqui Oakley | Jeana Sohn | Jeremiah Ketner | Katherine Streeter | Madeline von Foerster | Marija Marošević | Melora Kuhn | Misery Boutique | OgiGraphics | Pamela Murphy | Robyn Lea | Schizoid Brain | Scott G. Brooks | Square America | Thomas Han | VisualData
• Recently published e-zines:
Born Magazine - Summer 2005 | Clandestina Colours #37 | Encore Mag #11 | Filtered 02 - Girls | Raster 7.0 | S-e-w #11 | Shift 104 | WellVetted #35
• Freshly glued newspaper clippings & interviews:
23 Questions with Robert Anton Wilson (by Maybe Logic) | Dan Clowes interview (this time with the BBC Collective)
• Spiffy films & flash thingies:
Das Kabinett des Doktor Caligari (via Hugo) | Salad Fingers Episode 6 (by David Firth)
• Website of the Month Awards - July 2005:
#1 Lorenzo Petrantoni
#2 Leg Agency
_____________________________
ONGOING EXHIBITIONS

© Daniel Martin Diaz for Big Rock Candy Mountain
• Miss Van's Toma Dame at Iguapop Gallery in Barcelona, Spain.
• Tiffany Bozic and Jeremy Fish's Salad Days at Art Prostitute in Texas, USA.
• Daniel Peacock and AJ Fosik's Proof Denies Faith at Jonathan LeVine Gallery in NYC, USA.
• Evah Fan and Florencio Zavala's Go Lov Me Face Btr - C Roof Btw Leg Ave at Sixspace Gallery in Los Angeles, USA.
• David Perry's For Your Pleasure 2 at the Shooting Gallery in San Francisco, USA.
• Big Rock Candy Mountain at Roq La Rue Gallery in Seattle, USA.
→ Feature on the exhibit by The Stranger
• Dalek's Character Assassination at Magic Pony Gallery in Toronto, Canada.
• Daily Dose at Low Gallery in San Francisco, USA.
_____________________________
FLICKR™ FEATR 004
Las Vegas Sucks - Fictional documents of a life as a Russian runaway queen.
_____________________________
CURIOSUM DE LA SEMAINE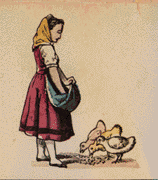 Jack and Beverly's Optical Toy Collection
"We have several examples of the magic lantern, Zoetrope (wheel of life), and Praxinoscope, as well as a Phenakistoscope, a Polyrama Panoptique, a Kinora, Mutoscope, and flip books."
(via Bibi's Box - image © BrightBytes)
____________________________
PSYCHICK SCIENCE CORNER

© Athena Images
Today's topics:
• The use of vulvular massage as a therapy for "hysterical" patients
• The Lugosi 20 Suicide Bracelet
"It comes with a sharp blade and is easy to use: wear slit on pulse, break off blade, insert blade, cut wrist. Here you go: a stylish suicide for just 160 euros."
(via We Make Money Not Art)
Leave a reply
You must be logged in to post a comment.